CHURCH OF SCIENTOLOGY
STUTTGART
It is with great pride we welcome you to our Church.
Since 1972, we have served a growing congregation in Stuttgart and its region. Today, from our new home in the heart of this city of innovation, we are honored to share our resources and extend our help throughout Baden-Wurttemberg.
This facility offers an ideal space for Scientologists to pursue their ascent to spiritual freedom. It also represents the fulfillment of the vision of our Founder, L. Ron Hubbard, that all Churches of Scientology serve as a home for the entire community and a meeting ground of cooperative effort to improve the lives of people of all denominations.
Our Church serves as a hub for our many social betterment campaigns and humanitarian programs. With the same drive that fueled this city's flourishing center of commerce and creativity to become the "New Heart of Europe," we work to uplift individuals and strengthen our community.
Together, we can progress toward achieving our dream, one that Mr. Hubbard described as, "A civilization without insanity, without criminals and without war, where the able can prosper and honest beings can have rights, and where Man is free to rise to greater heights."
GRAND OPENING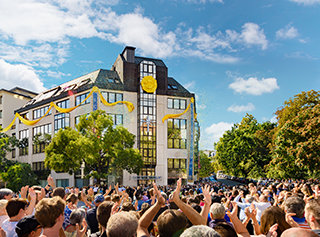 Lying between the Black Forest to the west and the Swabian Alps to the south, Stuttgart sits astride the Neckar River, running through the city's valley known as "The Cauldron." Rolling hills and scenic vineyards dotted with mammoth sequoia trees encircle this German powerhouse city, famous for hosting cultural and culinary festivals, in addition to producing world-renowned luxury cars.
Sunday, September 9, marked a union of modern energy and classic history when more than 2,500 Scientologists and guests came together for the grand opening of a new Church of Scientology for Stuttgart.